I'm over on Regency Reflections today talking about how a last minute fix can become a family tradition. Try one of our favorite recipes!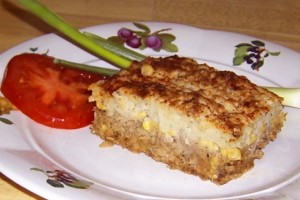 Ask people to list traditional English meals, and you're very likely to get Shepherd's Pie in the list right next to Fish and Chips, Bangers and Mash, and Yorkshire pudding.
Slice of Cottage Pie. Note the meat and vegetables on the bottom layer and the potatoes on the top.
Shepherd's Pie is really a particular version of a Cottage Pie. Technically, a Shepherd's Pie should contain lamb or mutton while a Cottage Pie can contain the meat from pretty much any animal, though it usually contains beef.
Simply put, Cottage Pies are a mix of meat and vegetables topped with a heap of mashed potatoes....